Kinky Boots (UK, 2005) ****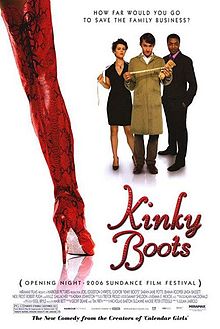 Kinky Boots, is a British comedy, inspired by true events. It tells the story of a traditional Northampton shoemaker, who turns to producing fetishism footwear in order to save his family's failing shoe factory from going out of business. Kinky Boots was written by Geoff Deane and Tim Firth and directed by Julian Jarrold.
The film succeeds to charm despite a plot that has little surprises to offer in terms of twists and turns, and characters that are somewhat shallow and predictable. It does so by providing a large portion of good old fashioned honesty and plenty of colors; some warn by drag queens, some in the form of characters that may not be deep but cover a wide spectrum of the society.
It is an enjoyable film with an appropriate crescendo ending.