Stray Dog (Nora inu, Japan, 1949) ****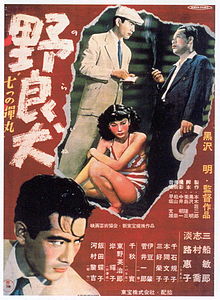 Stray Dog is a film that slowly but surely grows on you. The plot is seemingly very simple: a rookie homicide police detective has his Colt pistol stolen during a trolley ride. During the rest of the film, shot in a film-noir style, the tortured detective, played by a young Toshirō Mifune, tries to recover the gun. Unfortunately the pistol is being used by a bitter war veteran, who's fallen to crime after the war, for robbery and murder, making the young police detective tormented by guilt.
What makes this film so effective is the playing of the young detective (Mifune) against a senior detective, played by Takashi Shimura.
Stray Dog covers a wide area of topics including some subjects Kurosawa will continue to explore in his later films: good and evil, post-WWII Japan and its generations gap. It also touches on a subject familiar to many in the USA which is the assimilation of war veterans back into society.
The acting is great, and though the film suffers occasionally from heavy handling of symbolism it remains a treat for film lovers.